Speculative design practice allows for the design of objects that aren't currently possible, but are plausible in a future world.
This responsive companion lamp is a craft object that joins the Internet of Things. It has been designed with the following features:
Various light options
Human presence, mood, and temperature sensors
Adjustable lamp arm
App connectivity
Push Button to send artisan(s) who made the lamp appreciation
An artisan monitored tea plant (mood details are sent to an artisan grower and they recommend nutrient packs to feed the plant and influence your tea – and your mood) with built in moisture sensor.
An app app will include monitoring of your mood, tea plant, light usage, and preferences, as well as information on how the lamp was made, information about its creators, and the history of the object (as this could become an inheritable piece).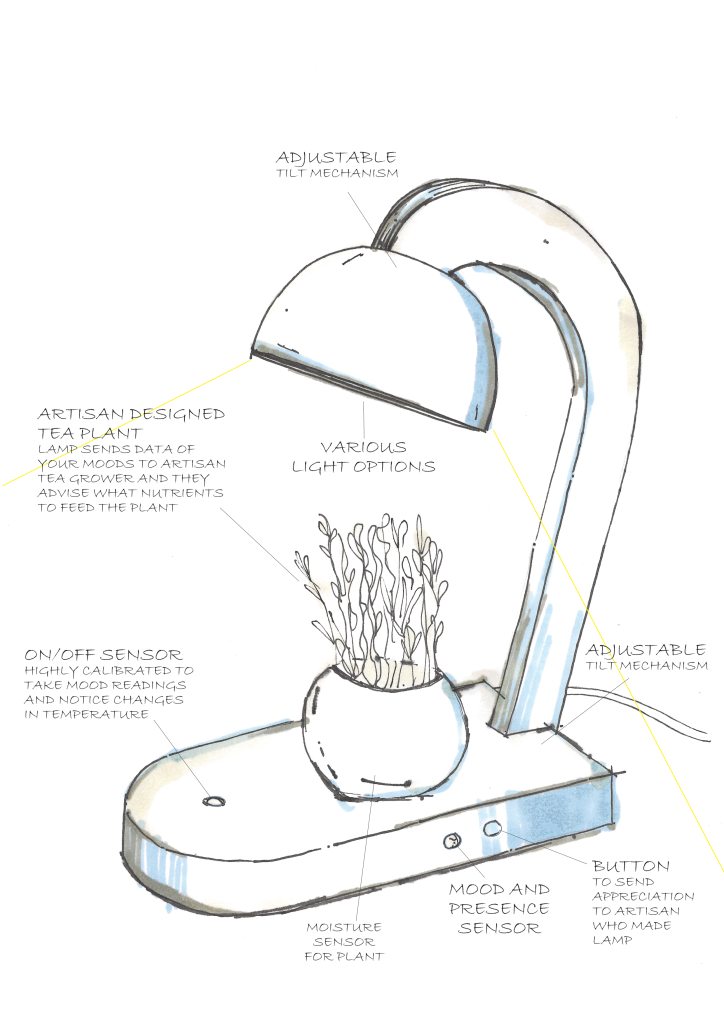 Its the hope that in the future, craft object will continue to hold value, if not more than today. With added technology they could become invaluable staples in our everyday lives – more personalised – more in tune – more us.
---
This post relates to a project page, view the project page to see other related posts and outcomes.
Click Here to return to Journal Posts on Project Page
or click Next Post below to keep reading posts in this category