Shining a Light on Craft & Technology
This project investigates the blending of traditional craftsmanship and making with open-source electronic technology. It explores the possibility of artisans embracing technology within their craft objects and speculates on the possibilities of connecting these craft objects to the IoT within the 4th industrial revolution.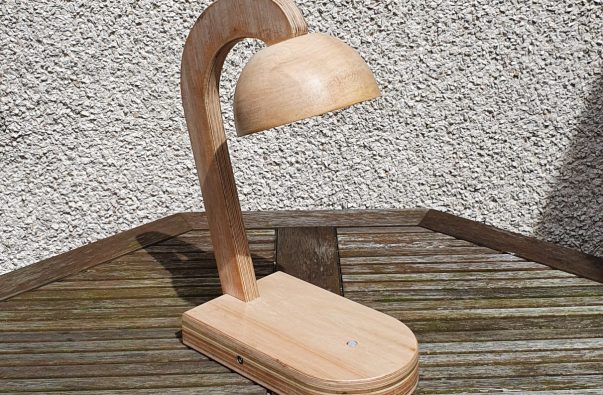 Brief: This Design Research Project investigates the role of culture, craft, and lore in the 4th industrial revolution, considering how we should maintain and promote activities that have supported societal advancement for centuries.
We were encouraged to explore this research project from many perspectives, including but not limited to storytelling; artisan making; material culture; textiles & fashion; paraphernalia; architecture; agriculture & diet; societal classes; and more. This investigation considers how these traditional activities can be made relevant to contemporary society and how human participation in the making process adds value to a designed outcome.
Objective: The aim for this design research was to Investigate the role of making, craft, and technology in contemporary society by exploring the value of blending traditional craft with modern electronics using a trans-disciplinary process.
Methods: Case Study, Co-Design, Speculative Design
Stakeholders: Artisans, Craftspeople, Designer Makers, Programmers, Researchers, Educational Professionals, Craft Consumers
This project started with an investigation into the existing literature on craft, culture and the 4th Industrial Revolution. Once I decided on the direction of the project being about the blending of craft and modern open source technology, I was connected with artisan Neil Fyffe and we started working further on this project.
Read more in my Journal posts below and view my workbook to see how this project developed and progressed.
Click on the slider arrows to scroll through images of my design research project workbook presented through the method of scrapbooking. Click on the image to open larger version.
This workbook/scrapbook details my thoughts, notes, process and development of this project.
Below are my design journal entries concerning this project which make up the online components of my project workbook.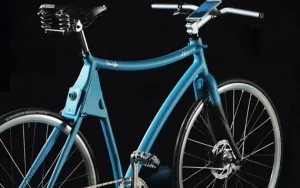 Technological advancements in cycling over the last few hundred years have mostly come from the frame construction and use. Today's...
Read More
Design Research Project Report
Shining a Light on Craft & Technology: Blending Tradition and Electronics in Crafted Objects
Acknowledgements
I would like to thank Neil Fyffe for collaborating with me on this project and being such a great design partner. I would also like to thank Richard [last name] from Proto-pic who helped me with gathering components, discussing the technical parts of the project and providing me with a new board without charge when I blew the original one purchased. Finally, I would like to thank the staff at Napier University who have help and supported me and this project.
Keywords
Craft, Making, Co-Design, Speculative Design
Introduction
When we think of traditional artisans, we often think of someone working with their hands to create something tangible. This object might be a piece of furniture, a pottery bowl, or a painting. Creating these objects requires skill, patience, and often years of experience. However, in recent years we have seen the rise of technology that can product objects at a fraction of the cost and time (Anderson 2012). For example, 3D printers can now create objects that are almost indistinguishable from those created by traditional methods (Shahrubudin et al. 2019).
But the value of the hand is undeniable. Arguably information gained through the touch of the hand is more reliable than information gained through the eyes (Sennet 2009). The eye can give misleading information, and there is something about working through a problem with your hands, moving the materials, playing like when you were younger that just isn't the same regardless of your skill for imagination. Think about the expressions "get a grip", or "come to grips with something"; these expressions evoke images of the hand, even in reference to conceptual ideas. These expressions represent the "evolutionary dialog between the hand and the brain." (Sennet 2009, p.151)
In the past, such as medieval age workshops, the master would teach the apprentice. Today the lines are even more blurred. Just with the definition of craft evolving to include less traditional materials, so it the process of learning craft and making itself. Modern technology has changed how craft is perceived, made and potentially craft objects themselves.
Aims
This research project aims were to investigate the role of making, craft, and technology in contemporary society by exploring the value of blending traditional craft with modern electronics using a trans-disciplinary process.
Due to the scope and nature of the project, this qualitative research will not reach overarching conclusions, but aimed to add to existing understanding and knowledge, as well as gain insights into the process of craft making in the context of the 4th industrial revolution and beyond.
Specifically, this project looked at the use of electronic components and open-source coding (such as Arduino) within traditional crafts (making and objects) and explored the technologizing of craft objects and connecting them with the internet of things.
Research Questions: How can traditional crafts be made relevant in contemporary society? To what extent should traditional craftspeople embrace the technology of the 4th industrial revolution in their objects?
Approach
This qualitative project takes an affirmative stance to the research questions and was conducted within an interpretivist paradigm, recognising the complexity of socially constructed multiple realities (Rehman and Alharthi 2016) and the influence the researcher has on the project (Grix 2004, p.82).
This project follows the belief that there can be multiple interpretations to a phenomenon, and the affirmative stance taken is not mutually exclusive. There is value in the view that traditional crafts can, and perhaps should, be preserved without modern influences.
Context
In this project, I use the terms craft and craftspeople as anyone can be a craftsman (or craftsperson), and the terms reflect "a more inclusive category than the artisan" (Sennett, 2009, p. 144). Sennett (2009) argues that people regress inward when the material things or work in their lives no longer provide them with mental engagement. There is a strong argument that making provides added value and meaning the human experience that other types of work or entertainment cannot (Sennet 2009; Korn 2017). Something about craftsmanship brings people together; its less about advanced skill (which is often associated with preserving craftsmanship), and more about the act of creating and investing in the work for creating's sake.
However, some might argue that low skilled craftspeople are easily replaced by machinery. Sennett does comment that it becomes problematic when robotics and machinery try to "replace high-cost skilled labor" (2009, p.106), this is one of the ways where technology can become a threat to the preservation of the culture of crafts and making.
"Highly specialized skills represent not just a laundry list of procedures but a culture formed around these actions."
(Sennet 2009, p.107)
What differentiates craftspeople from machinery is that they see and experience the world differently and are shaped by experiences (Korn, 2017). Tactile information makes a strong imprint on the mind as we cannot shut off sensory intake (Korn 2017). Like Sennet(2009), Korn believes that craft and making is social, that "the transmission of information from one person to another a physiological process, comparable to that of a virus." (Korn 2017, p.110). Even so, many craft practices are considered at risk, endangered or even extinct (The Heritage Crafts Association 2021). Craftsmanship is important part of keeping culture and heritage alive (Conservation & Heritage Journal 2022) and it is currently at risk.
Its not all bad news. Technology has created a new type of makers—a product of the 4th industrial revolution (Anderson 2012). This revolution includes rapid changes in technology, society, and politics from the digital age. We are now more connected than ever, and have greater access to advanced machinery, such as 3D printers, laser cutters, CNC machines and open-source design and electronic components (Anderson 2012). Access to these types of technologies has changed how objects can be made and manufactured, and by who. These new ways of making have their communities to, and so, from a social aspect, are reflective of traditional crafts. People connect with each other to help with projects such as those made with Arduino, not for financial gain, but because of their interest in making for the sake of doing a job well done (Anderson 2012). In Chris Anderson's book "Makers: The New Industrial Revolution" (2012), he describes a story of allowing a programmer access to update one of the files they had been working on, only to discover later that they had gone in and corrected flaws in the code in other areas. This above-and-beyond approach is the same motivation that Sennett (2009) describes in his book "the craftsman", sometimes external motivators are not fulfilling enough, and we make because we can.
While new types of makers have been born, traditional artisan work has regularly been under fire. "In the nineteenth century steel industry; skilled artisans faced two potential futures because of technological change: deskilling or dismissal" (Sennet 2009, p.107), and this is still true across many industries today. The difference is that the threat to traditional crafts are not just from the prevalence of machinery and automation but from a reducing interest from younger generations to take up craft work (Eurobest 2014). Very few projects combine making traditional craft objects with modern technology; however,  the Samsung Smart Bike from the Samsung Maestro academy is one notable example. The Italian-made bike is interesting and the aims of the project in promote cross-generational learning and an interest in craft making.
Another example of cross-generational learning is Music Hackspace's "Build an interactive textile instrument" (Topley 2022) course. This "practice-led" course teaches how to combine traditional needle felting with Arduino and e-textiles to create an interactive instrument. Arduino is an open-source platform for electronics (both hardware and software) that are intended to be easy-to-use. Arduino boards read inputs, such as a finger on a button, and turn them into outputs like turning on an LED (https://www.arduino.cc)
When looking to the future, it's important to remember that objects aren't just the things themselves, things we have in our homes to look at or just to have, they have value from a heritage perspective, human hand craft, and also the affordances they give us (Gibson 1979). Keeping these perspectives in mind when thinking about combining technology within craft objects is a way to enhance their value, not to take away from it.
Methods
Case Study
This research project started with a case study using an example of a traditionally crafted object blended with Arduino electronic components and digital design. Case study is a popular method of qualitative research (Hyett et al. 2014) and is focused on a single, bounded subject or event. Case studies can explore and describe processes and/or outcomes. As Hyett et al. pointed out, "case selection is a precursor to case analysis, which needs to be presented as a convincing argument" (2014, p.6). For this research question, I used the Samsung Smart Bike as an example of traditional craftsmanship meeting electronic technology. More specifically the Samsung Smart Bike used an Arduino board connected to a Wi-Fi and Bluetooth module.
Research Through Design (Co-Design and Speculative Design)
Building on the study of the Samsung Smart Bike, I used research through design (Frayling, 1993) as an additional method of investigation. Examples of how research through design can be achieved include (a) 'action research' where the designer / researcher keeps a note of the step-by-step process of studio work and creates a resulting report to contextualise the work; and (b) development work such as, "customising a piece of technology to do something no-one has considered before and communicating the results" (Frayling 1993, p.2).
This project included working with an expert artisan to make a craft object with integrated electronic components, as well as documenting the process, prototypes, drawings, videos, observational notes, and other artifacts (Koskinen et al. 2012; Stappers and Giaccardi 2017). This qualitative method allows for conversations and learning through making to provide a diverse development of understanding and this method "for making give[s] people – designers and non-designers – the ability to make 'things' that describe future objects, concerns or opportunities" (Sanders and Stappers 2014, p.6).
Creating a speculative design (Dunne and Raby 2013) based on the object created allows for the exploration of futures where this type of object becomes integrated into our lives but also future technologies. Speculative design askes the "what if" questions without venturing into a complete fantasy (Auger 2013). "Speculative design is not only to encourage contemplation on the technological future but can also provide a system for analysing, critiquing and re-thinking contemporary technology." (Auger 2013, p.12). The speculative design component of this project is based on the created object from the co-design – it is an exercise in exploration of the future, giving the opportunity to push the idea of craft objects blending with modern and advanced technologies.
Scrapbook as Method
Frayling's (1993) idea of keeping a design diary was expanded for this project into a scrapbook. Scrapbooking is not a well published research method, but Walling-Wefelmeyer argues that it is a "specific theoretically informed methodology … in response to the voice of self, experience, and truth which is frequently elicited and constructed in qualitative research" (2020, p.4).
This 'approach to knowing' (Walling-Wefelmeyer 2020) allowed for the documentation of the design process, as well as other secondary sources. The documentation consists of a physical scrapbook as well as digital components, linked together. This method engages the scrapbooker in making sense of the collected items and data. Like collage as method, which "form and content reflect the juxtaposition of individual ideas, realms of thought, texts, images, and other creative works, and the conversation that develops between them" (Vaughan 2005, p.41), and bricolage which describes research bricoleurs as "pick[ing] up the pieces of what's left and paste them together as best they can" (Kincheloe, 2001, p. 681). This method allows for flexibility in the research documentation, expression, and interpretation.
Results and Interpretation
Samsung Smart Bike Case Study
A case study was carried out for the Samsung Smart Bike and published online in full (see Appendix A: Journal Post – Samsung Smart Bike). It was discovered through this research that the Samsung Smart Bike came out of Samsung Maestro Academy, which was an online platform designed to connect Maestros with students. It was described as "Samsung's first digital platform for aspiring younger generation to connect with the legendary handcrafting masters through Samsung technology, preserving the future of "Made in Italy" and fostering a new generation of Italian artisans." (Samsung Newsroom 2014). Despite searches online, and on a Samsung phone, it appears that the platform is either no longer available at all, or not available outside of Italy. As the publications were from several years ago, it seems likely it is no longer active. Perhaps, despite its Cannes Lions awards (Samsung Newsroom 2014) and initial media attention, there was not enough demand for the service. Unfortunately, there is no readily available information as to what happened to it.
This case study however, concentrated on the Samsung Smart Bike – which was a success in receiving 'buzz' (Eurobest 2014). The bike was created by Maestro Giovanni Pelizzoli is a world famed frame builder who worked together with Alice Biotti, a young student of Samsung Maestros Academy to create the Samsung Smart Bike. They combined traditional craftsmanship with Arduino technology to create a one-of-a-kind bike with added features (Huddleston 2014; NerdsChalk Staff 2014; Samsung Maestro Academy [no date]). The bike features included: a curved frame (that neutralizes dangerous vibrations caused by rough city streets), four laser beams (that create individual bike lanes), an integrated GPS system, and a rear-view camera. Additionally, the bike has a live stream of video and riding data to the handlebar-mounted Samsung device (Zolfagharifard 2014; Samsung Maestro Academy [no date]).
The overall goal of the project was also to help with the preservation of handcrafts in Italy, Samsung believed that creating a success story of cross-generational project success with the use of technology would help motivate younger generations to take up handicrafts, a lot like the co-design portion of this project.
Research Through Design & Co-Design
This project involved working with an expert artisan in developing a craft and electronic technology blended object. I worked closely with Neil Fyffe, a local craftsperson who specialises in using native timber in carving, woodturning and specialist joinery (http://www.neilfyffe.co.uk/).  I documented the co-design and making process online (Appendix A: Journal Post – Neil Fyffe).
Before working with Neil, I focussed the scope of the project by deciding to co-design a responsive lamp. This scoping balanced the project's potential vs. the time and skill available. As this was my first Arduino project, I also documented learning how to build and code the components (Appendix B: Journal Post – Crafting with Components). Neil had previously worked on a project building-in Bluetooth speakers but did not have much involvement with the electronics portion of that project and did not witness how the components fit into the piece. He simply made insets for the pieces to be housed. In this project, I did the coding and most of the assembly in collaboration with Neil. I shared the prototype stages and brought all the components with me for our workshop day.
We each approached the design from different perspectives. Initially Neil had a large piece of elm that he was thinking we could carve out spaces for the components, similar to his previous work. Although Neil loves wood carving, like other artisans (Korn 2017) Neil rarely has time to work on his carving work as he spends more time on paid work (Korn, 2017, p. 149).
Together we explored various component options and general restrictions and decided a box-like shape would be more suitable. Again, however, we thought differently about box construction. I would have approached box-building from the idea of 6 pieces, but Neil suggested we create a cut-out from a thicker piece of wood. This design approach used more of the natural strength of the wood and allowed for easier attachment of the lighting arm.
The electronic components also influenced the design of the lamp at various stages of the design-making process. As we got into a making rhythm, we made decisions and revisions throughout the making process. In fact, our process was much more collaborative and organic than designing and then sending plans to an artisan to create. We worked together through numerous changes as we attended to various details and Neil commented that the lamp "started to take on an aesthetic of its own". The design started to show influences from both of us, and we had a laugh over how the construction of the base had a slight instrument feeling to it; Neil commented that his wife would say he is "obsessed with guitars making." It was easy to see this influence come through.
Neil was interested in the electronic components and, as the day went on, he started to think of other scenarios where he could incorporate some of the design-making ideas we had worked with (such as a display box with a light on opening or a wardrobe). When I asked directly if he would consider using electronics in future projects, he said that he would be "keen to, but not the coding." I agree. Throughout the making process of this project, I flip-flopped on my view that traditional artisans should be learning Arduino to support their craft. Working with Arduino was not as easy as I expected, especially the coding. The assembly of the components was very tactile and experimental—something I could see as more likely to be taken up by traditional artisans. However, the coding was a different type of crafting. This project shows that making with components could be considered a type of contemporary craft, and coding an art. The object we created also has significance to both of us due to the personal investment in the making process. For me it reminds me of the day, but also is a special object because of my hand in the process. Perhaps this is because, while the purpose of this research project was more interested in the process and being in with workshop with Neil, we both couldn't help wanting to make something nice out of the experience. Perhaps it is as Richard Sennet says in his book, that the craftsman "represents in each of us the desire to do something well, concretely, for its own sake" (2009, pp.144–145).
Technological objects made in conjunction with a traditional craftsperson will inherently have more value due to the skill require in their production, and the human element the object captures compared to mass-produced, or even small batch manufactured items. Selling these types of objects could help keep craftsmanship alive, but also working alongside craftspeople will help as well. "The history of the workshop shows … a recipe for binding people tightly together"(Sennet 2009, p.80), and this was definitely the case for me, by the end of the workshop day I felt like I knew much more about Neil than if we had spent the time doing something else.
Research Through Design (Speculative Design)
Another component of this project was the development of a speculative design based on the crafted object. After completing the co-design portion with Neil, I used the made lamp to inform the speculative design. We spoke briefly about what possible functions the lamp could have once connected through Wi-Fi to a phone or a computer, but the speculative design process was completed on its own (without collaboration with an artisan).
The speculative design (Appendix C: Journal Post – Speculative Design Lamp) includes an interactive lamp with features such as; various light options, human presence, mood, and temperature sensors, adjustable lamp arm, app connectivity, button to send artisan(s) who made the lamp appreciation, and an artisan monitored tea plant (mood details are sent to an artisan grower and they recommend nutrient packs to feed the plant and influence your tea – and your mood) with built in moisture sensor. The app will include monitoring of your mood, tea plant, light usage, and preferences, as well as information on how the lamp was made, information about its creators, and the history of the object (as this could become an inheritable piece).
This design has some features that are possible with today's technology and some that are not. It does still however have that craft component. The idea is to imagine a future that isn't worried about the possibility of youth getting into crafts because it is part of their everyday and technologically advanced lifestyles.
Scrapbook
Joe Kincheloe says, "There is nothing simple about conducting research at the interdisciplinary frontier" (2001, p.690). This project was no exception. The creation of a scrapbook (and supplemental digital 'scraps') was an effective method of gathering and expressing data (Appendix D: Project Scrapbook and Appendix E: Online Project Journal). Instead of a randomized collection of data, the scrapbook helps tell the story of the research in a visual manner. The process of creating and compiling the scrapbook, using my hands, gluing, selecting visual elements, data stories, and layouts, gave a new perspective and better understanding of the collected data. It was an effective way to reflect on the process, and do some of the "thinking" required "through craft" (Adamson 2020).
Conclusion and Recommendations
This co-design project spanned disciplines and generations – creating interests on both sides. More projects of this nature could help keep traditional crafts and heritage alive through younger generations, as well as exposing older generations to new possibilities of making and community.
Due to the limited information available, the case study of the Samsung Smart Bike was not as in-depth as I would have preferred. Ideally, a robust case study performed closer to the project's completion would have included interviews with Maestro Giovanni Pelizzoli, Alice Biotti and others involved in the project (Eurobest, 2014) wanted to gain a better understanding the Samsung Smart Bike project on Italy's attitudes towards craftmanship long term.
In Chris Anderson's book 'Makers: The New Industrial Revolution' (2012), he discusses at length the support he received from the online community for his electronic components and coding. I did reach out online to a Reddit group but received no traction on the post, so would not describe my experience in the same way. I did however feel the connection with the community when speaking with Richard from Proto-pic, feeling his enthusiasm, and receiving his assistance without hesitation (see more on Appendix B: Journal Post – Crafting with Components). As a result, this project is lacking a full understanding of the 'open-source makers' community. After completing the lamp, I shared it online, again with limited traction (Appendix D: Journal Post – Sharing Our CraftTech Lamp). This lack of traction could mean there is little interest in craft objects being blended with Arduino components. Perhaps my newness to the community and my lack of knowledge of the best ways and places to share, contributed to the lack of interest.
Through the speculative design process, I explored possible futures and pushed the idea of blending technology with craft objects. Due to the time restrictions to this project, it was not possible to include artisans in the speculative design portion of this research. However, including an artisan in speculative design could benefit further research projects. I would be interested in taking this approach and incorporating an analysis of their views of the future of their craft.
The use of multi-methods for this research project was valuable, although a mixed-method may be more effective in understanding broadly the feelings of artisans using components in their work. Combining quantitative methods such as large surveys and statistics about the criticality of crafts in the UK with interviews, co-design, and speculative design (as used in this project) would create a more robust research project. This area needs more research and for this work to be done with various other artisans. I also recommend getting a group of artisans together to discuss their viewpoints and explore the idea of blending crafts and technology with experts.
The scrapbooking method in this project effectively combined multiple methods, ideas, and concepts. This combination allowed the pieces to come together and tell a story of the research visually compared to other methods. I recommend the scrapbooking approach as a unique and viable research method for further research on this topic.
Design Research Project Documentation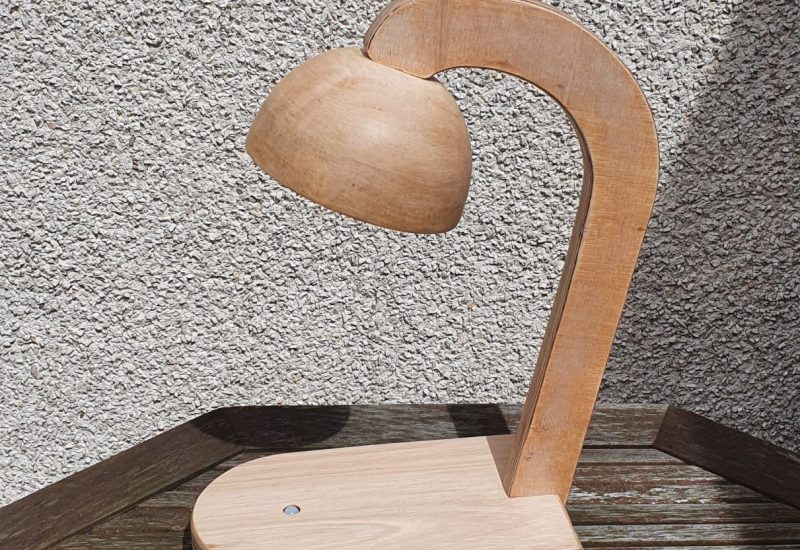 Click on the slider arrows to scroll through images of the final light.
This light is designed to work on a desktop. The side sensor turns on the warm colour LED when it senses someone in the vicinity and has a 120second timer. The sensor on the top turns on the cool LED when it is triggered, and off again when it is triggered again.
This video shows the functionality of the light in testing and the final object.
Read more about the process of creating this project in my Design Journal posts.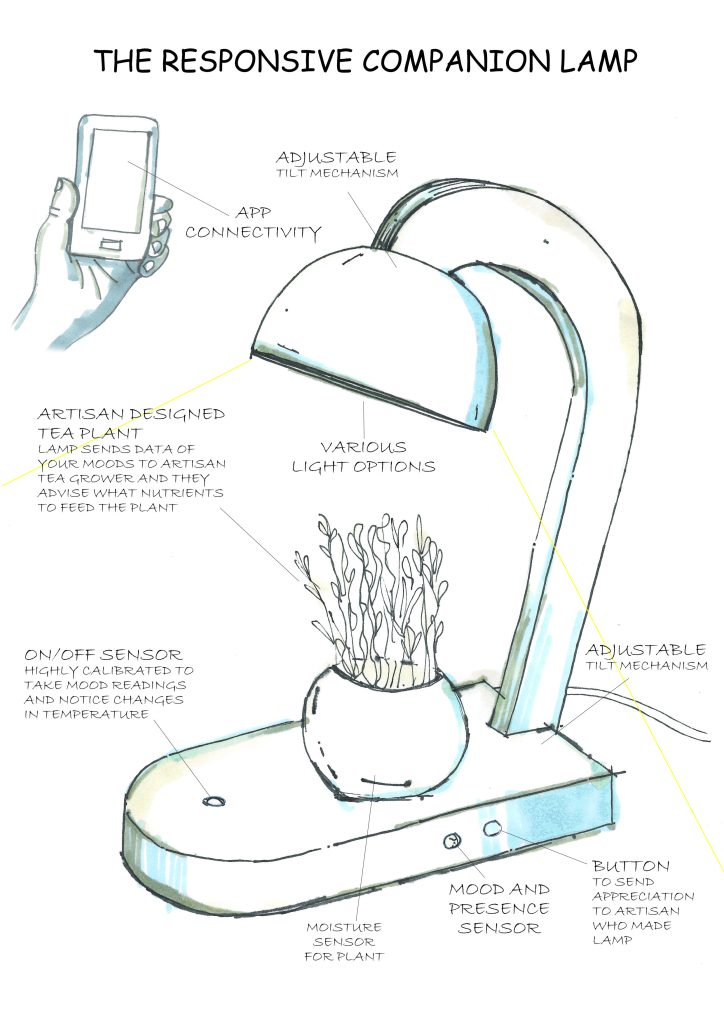 Adamson, G. 2020. Thinking Through Craft. London: Bloomsbury Visual Arts: Bloomsbury Publishing Plc.
Anderson, C. 2012. Makers: The New Industrial Revolution. London: Random House Business Books.
Auger, J. 2013. Speculative design: crafting the speculation. Digital Creativity 24(1), pp. 11–35.
Conservation & Heritage Journal 2022. Craftsmanship is key to keeping heritage alive. [Online]
Available at: https://www.consandheritage.co.uk/articles/craftsmanship-is-key-to-keeping-heritage-alive
[Accessed: 26 May 2022].
Dunne, A. and Raby, F. 2013. Speculative everything: design, fiction, and social dreaming. Raby, F. ed. Cambridge, Massachusetts: The MIT Press.
Eurobest 2014. 2014 PR: Samsung Smart Bike. [Online]
Available at: https://www2.eurobest.com/winners/2014/pr/entry.cfm?entryid=2497&award=101&order=7&direction=1 [Accessed: 25 April 2022].
Frayling, C. 1993. Research in Art and Design. Royal College of Art Research Papers 1(1)
Gibson, J.J. 1979. The Theory of Affordances. In: The Ecological Approach to Visual Perception. Dallas, London: Houghton Mifflin
Grix, Jonathan. 2004. The foundations of research. Basingstoke: Palgrave Macmillan.
Huddleston, T.J. 2014. Samsung's Smart Bike, the ride of the future? [Online]
Available at: https://fortune.com/2014/06/12/samsung-smart-bike/ [Accessed: 19 May 2022].
Hyett, N., Kenny, A. and Dickson-Swift, V. 2014. Methodology or method? A critical review of qualitative case study reports. International journal of qualitative studies on health and well-being 9(1), pp. 23606–23606. doi: 10.3402/qhw.v9.23606.
Kincheloe, J.L. 2001. Describing the Bricolage: Conceptualizing a New Rigor in Qualitative Research. Qualitative Inquiry 7(6), pp. 679–692. doi: 10.1177/107780040100700601.
Korn, P. 2017. Why we make things & why it matters: The education of a Craftsman. London: Vintage.
Koskinen, K., Zimmerman, J., Binder, T. and Redström, J. 2012. Constructive Design Research. In: Roumeliotis, R. and Bevans, D. eds. Design Research through Practice: From the Lab, Field and Showroom. Waltham, MA, USA: Morgan Kaufmann Publishers, Inc. (Elsevier)
NerdsChalk Staff 2014. So Smart Bike is Samsung's next smart project? [Online]
Available at: https://nerdschalk.com/smart-bike-samsungs-next-smart-project/
[Accessed: 23 April 2022].
Rehman, A.A. and Alharthi, K. 2016. An introduction to research paradigms in distance education. International Journal of Educational Investigations 3
Samsung Maestro Academy [no date]. Samsung Smart Bike Design Story. [Online]
Available at: https://design.samsung.com/global/contents/s_bike/
[Accessed: 23 April 2022].
Samsung Newsroom 2014. Cannes Lions: Was Samsung Maestros Academy award worthy? Yes, totally. [Online]
Available at: https://news.samsung.com/global/cannes-lions-was-samsung-maestros-academy-award-worthy-yes-totally
[Accessed: 25 May 2022].
Sanders, E.B.-N. and Stappers, P.J. 2014. Probes, toolkits and prototypes: three approaches to making in codesigning. CoDesign 10(1), pp. 5–14. doi: 10.1080/15710882.2014.888183.
Sennet, R. 2009. The Craftsman. London: Penguin Books.
Shahrubudin, N., Lee, T.C. and Ramlan, R. 2019. An Overview on 3D Printing Technology: Technological, Materials, and Applications. Procedia Manufacturing 35, pp. 1286–1296. doi: 10.1016/j.promfg.2019.06.089.
Stappers, P.J. and Giaccardi, E. 2017. Research Through Design. In: The Encyclopedia of Human-Computer Interaction. 2nd ed. Hershey, PA, USA: Idea Group Reference, pp. 1–94.
The Heritage Crafts Association 2021. The HCA Red List of Endangered Crafts 2021 (Categories of Risk). [Online]
Available at: https://heritagecrafts.org.uk/redlist/categories-of-risk/
[Accessed: 25 May 2022].
Topley, S. 2022. Build an interactive textile instrument. [Online]
Available at: https://musichackspace.org/events/build-an-interactive-textile-instrument-2/
[Accessed: 14 March 2022].
Vaughan, K. 2005. Pieced Together: Collage as an Artist's Method for Interdisciplinary Research. International Journal of Qualitative Methods 4(1). doi: 10.1177/160940690500400103.
Walling-Wefelmeyer, R. 2020. The Methodological Potential of Scrapbooking: Theory, Application, and Evaluation. Sociological Research Online 26(1). doi: 10.1177/1360780420909128.
Zolfagharifard, E. 2014. Want your own cycle lane? Samsung's smart bike uses LASERS to project lines on a road and stop motorists getting too close. [Online]
Available at: https://www.dailymail.co.uk/sciencetech/article-2659240/Want-cycle-lane-Samsungs-smart-bike-uses-LASERS-project-lines-road-stop-motorists-getting-close.html
[Accessed: 25 April 2022].