I arranged a series of quick catch-ups with Samantha (interviewee/end-user) to show some of my project's progress and to get initial impressions. (Kelly was not available at this stage due to scheduling)
I started by explaining where I had got to with my research and how my idea refinement had translated into into the three core aspects of Agile working; Stand, Task, Lounge. I proceeded to show the following concepts for a table, seat and whiteboard/techboard.
Seat
First we reviewed the concept for a seat – with the main feature of adaptability from a 2 person bench, to a lounge chair and finally in a task / standard chair position. I used the below models to describe the ideas – I also had time to produce 2 alternate arm options by computer modelling in addition to the cardboard figures to describe this stage of the process. References to my other previous sketches were also referenced as a communication tool when discussing possible aesthetic options for the seat cushions. It was agreed that the more triangular shape for the arms (with less gap to the cushions) was a preference, and that further development on the cushions would take place along with details on mechanics and aesthetics (read more in my chair development post).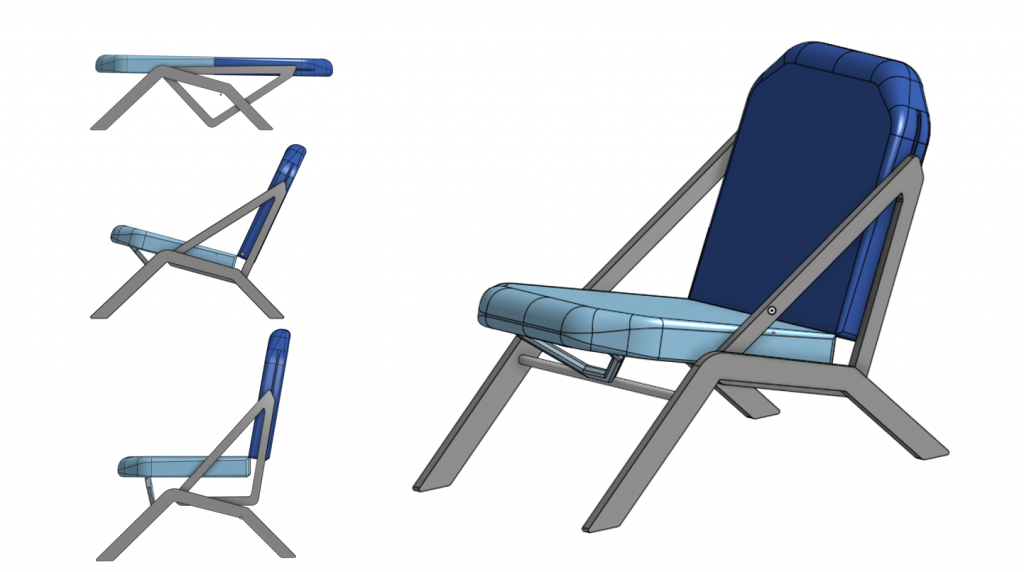 Table & Board
I showed my drawings showing my initial plans for the adjustable table in our first catch-up, however as noted in my idea refinement journal entry, I was not confident about converting the idea into a reality.
Discussing the seat shape and functionality helped me think more about different ways the table height adjustment could be achieved – and I used the idea of the triangles to achieve this.
I then created a 3D mock-up of this concept and presented the below video and images in my next catch-up with Samantha.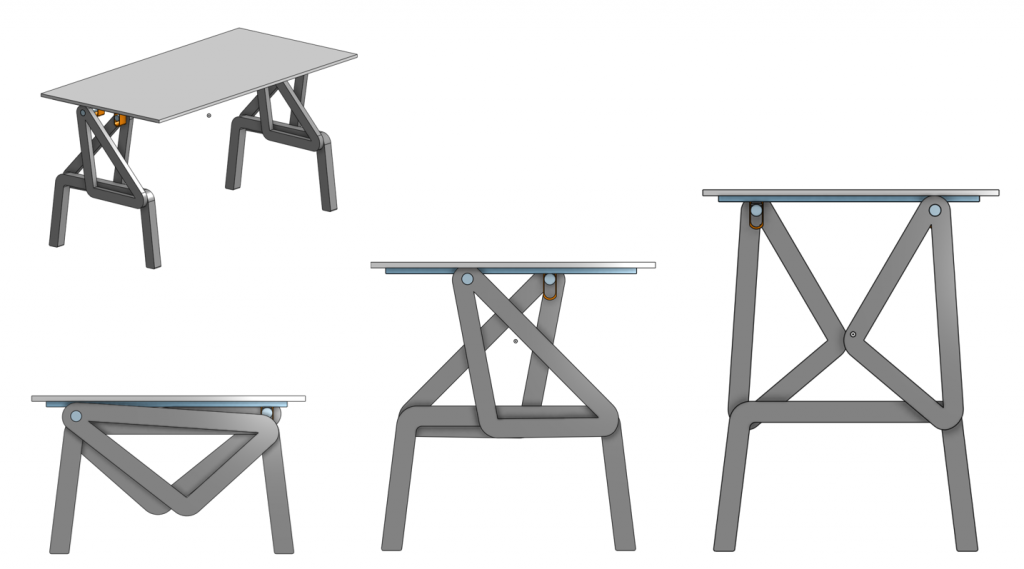 Samantha's initial reactions to being shown the video of the preliminary design concept for the table were very positive. During this catchup, I didn't explain again what the direction of the project was, I simply started by asking, "What are your thoughts on this?". She went on to express her curiosity in how it would be achieved, how it would work and be constructed.
"How cool is that!!! Sit down, stand up. Looks Funky!

– Samantha's response to opening question 'What are your thoughts on this?' when presented with the above video
Unlike other products on the market, this table has a large height range. Current options go from desk height to standing, and not much lower. This is due to the way the table is designed (read more about types of table designs and my design progress in my table mechanism post).
We also discussed my ideas for a board including options of adjustable boards, or tech boards, and different board uses.
I spoke to her about the options of low-tech to high-tech boards and also about the uses of boards as space dividers, and potentially size adjustable boards.
I explained my idea from my idea refinement stage for a mid-tech option using the same technology as e-readers, where it would be a simple use and restricted file types to support a use low power technology and to include a solar strip around the frame.
Her response was;
"The second option [white-tech board] FOR SURE. And it would be perfect for collaborating with people in different locations. You could drag and drop and write on it and stuff."
Her response demonstates the known struggle office based workers often have, where there are fantastic benefits to both high tech and low tech whiteboard options, but smartboards are rarely actually used so a simplier option is needed.
---
This post relates to a project page, view the project page to see other related posts and outcomes.
Click Here to return to Journal Posts on Project Page
or click Next Post below to keep reading posts in this category