A table, seat, and board designed to work together to support agile workers in a flexible work environment within a post-pandemic society.
Brief: In this self-directed design project, we developed a significant 'Minor Project' that showcases subject specialist skills, knowledge and understanding of other disciplines, and applied design research. We were tasked with developing our own design opportunity and objective.
Design Opportunity: An increasing number of companies support flexible working and encourage agile ways of working and Agile methodologies. Companies need adaptable furniture and equipment to engage employees in these new ways of working, which are especially relevant to a post-pandemic work world.
Design Objective: Design an adaptable system or product line to support agile workers in flexible work environments.
User Group: Office workers and Agile project managers. The term 'office worker' includes roles that are commonly conducted in a commercial office space and excludes workers in manual labour roles. However, the term does not mean the audience must be in a traditional commercial office. This audience could work in a café style office, from home, in traditional work spaces, or in any futuristic imagined spaces. 
Stakeholders: Interior designers, commercial office furniture dealers and sales representatives, facilities managers, and human resources personnel that may influence office and work environment design.
Interviews & Research Through Design
I conducted interviews with two members of my audience (both were end-users and one also represented a stakeholder group). I documented these interviews in my journal below, and used these notes throughout the process to inform my design. I also gathered user feedback which informed the final project realization. Following this initial scoping process, I developed the concept, created static models, and constructed a proof of concept prototype. I documented this process in detail in my design journal (see below).
I researched Agile methodologies and adaptable product solutions currently on the market. I documented my research using mind mapping and collage. I also looked into ways my products could be engineered (see journal below).
Frayling's definition of 'research through design' is broken into three sections; materials research, development work and action research (Frayling, 1993/4).  He describes action research as 'where a diary tells in a step-by-step way, of a practical experiment in the studios'. (Frayling, 1993/4, p.5). This position on the design process and its importance (along with learnings from my MA modules) inspired me to create my own design journal to document the process of my work. This journal is more than a diary of action research however, it includes documentation of development work and materials research, as well as research for design through the detailed documentation of my user interviews and received feedback. 
Below are my design journal entries concerning this project. Click "Read More" to view detailed documentation of the design development process including notes, sketches, prototypes, and tests.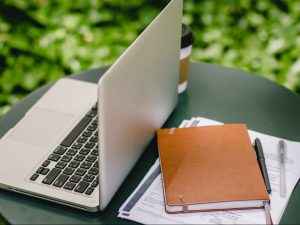 For this project I designed a semi-structured interview focusing on representatives of two major groups. I spoke with professionals in...
Read More
final Design concept summary
The Angeline furniture line consists of a table, seat, and board. They are designed to work together to support agile workers in a flexible. post-pandemic work environment.
The Angeline table is a height-adjustable table that adjusts from lounging to standing height. This design accommodates a larger range of heights than adjustable tables currently on the market.  This fun and funky design uses specially considered materials to support an engaging work environment in post-pandemic work offices.
One seat, three options. The Angeline seat transforms from a two-person bench to a single-person lounge chair. You can also adjust the height to to work on desk-based tasks. Adaptable to workers' needs in all types of scenarios. Working in conjunction with the Angeline table to provide a truly flexible experience.
The two-sided board can be used as a space divider, sound dampener, pinboard and digital whiteboard. Easier to use than a traditional smartboard, the low-power e-ink whiteboard side can save your notes for later use and editing. Completely mobile due to a solar-powered strip surrounding the edge and a battery pack in the base. 
Research Outcomes and Design Concepts
Agile Methodologies vs Agile Ways of Working vs Agile Attributes
Agile (with a capital A), in its original form, was an iterative approach to software development. Since the original manifesto (Agile Manifesto 2001). Agile methodologies have been used for many types of projects  (Conforto, E. C. et al., 2014). Agile methodologies are set frameworks for projects. Examples include; Scrum, KanBan, Prince2 Agile, Crystal, SixSigma, Lean Development (Portman, 2019).
The phrase agile ways of working refers to how teams and companies use agile methods for their own projects. Many organizations take one of the set frameworks and modify it to suit their needs. Additionally, some of the practices of an Agile framework can be used in general day-to-day working outside of projects, or what we refer to in my place of work as BAU (business as usual). Glen Alleman (as cited in Fernandez D & Fernandez J., 2008) describes agile as a "thought process". 
"We do Agile. We are agile." (Prosci, 2021)
Prosci (2021) describes the difference between Agile (with a capital A) as what we do, and agile (with a lowercase a) as an attribute of someone or something (like an organization). 
This design project embraces all the definitions of agile and Agile. It supports particular framework activities; for example, standup in the Scrum methodology, but the potential scope for this design looks beyond agile projects. The Angeline products are also designed to support agile organizations by offering  flexibility and .reparedness (Prosci, 2021).
Work in a Post Pandemic Society
This project considers post-pandemic work environments as places where Agile working will become increasingly important. Companies will need to be more agile to survive commercially. Additionally, workers want jobs with flexible home/ work balance. The pandemic has forced many people to work from home but has also reinforced  the importance of workplace in culture (Murar, 2020). People want options for how they work.

Samantha, an interviewee, said;

"People will be in-office less frequently. So, where before it was quite traditional to have everyone be there five days a week – that's changing. We'll have nicer office spaces but we may not be in them as often. Or, it'll be a conscious decision to go to the office for a purpose. You'll spend time [at the office] a bit more productively, probably because you have had a think beforehand, and you'll probably have to book a space and have a bit of a plan as to why you're going in, not just rock up because you do every Monday to Friday."

Experts agree;

"Everyone's vision for their post-COVID office space is different, but they all seem to hinge on this increased sense of well-being," (Bretaña, as cited in Murar 2020, p20).

"Offices are where we cultivate a unified culture through experience." (Robinson, 2020, p.19)

The idea of the office as a destination is central to this project's design. The furniture is playful, flexible, and practical. Not all companies can afford large spaces (like Google or Apple). However, this adaptable furniture can maximize different even minimal working environments.
Adaptable Furniture and Equipment Supports Agile
I asked interviewees to describe agile ways of working in one word. Kelly said "mobile" or "flexible." Samantha said "flexible". My answer (as a PMO Analyst) is "collaborative". Agile teams must be flexible and collaborative to self-organize across inter-disciplinary groups of people. 
My research revealed that adaptable collaborative, workspaces are important for agile working. Three main themes for agile ways of working and ideal working methods are: Stand up activities, Task activities, and Lounge environments (to support casual interactions or unplanned activities).
Creativity and self-organization are important themes in agile ways of working. Lounge furniture provides an area for team members to comfortably work individually or as a group on problem-solving discussions and thought shower exercises. Lounge seating also allows for diversity in working environments.
Dimension decisions made with reference assistance from Julius Panero & Martin Zelnik's book: Human Dimension and Interior Space: A Source Book of Design Reference Standards.
Table & Chair (In Task Position)
Table (Exploded Isometric)
Chair (Exploded Isometric)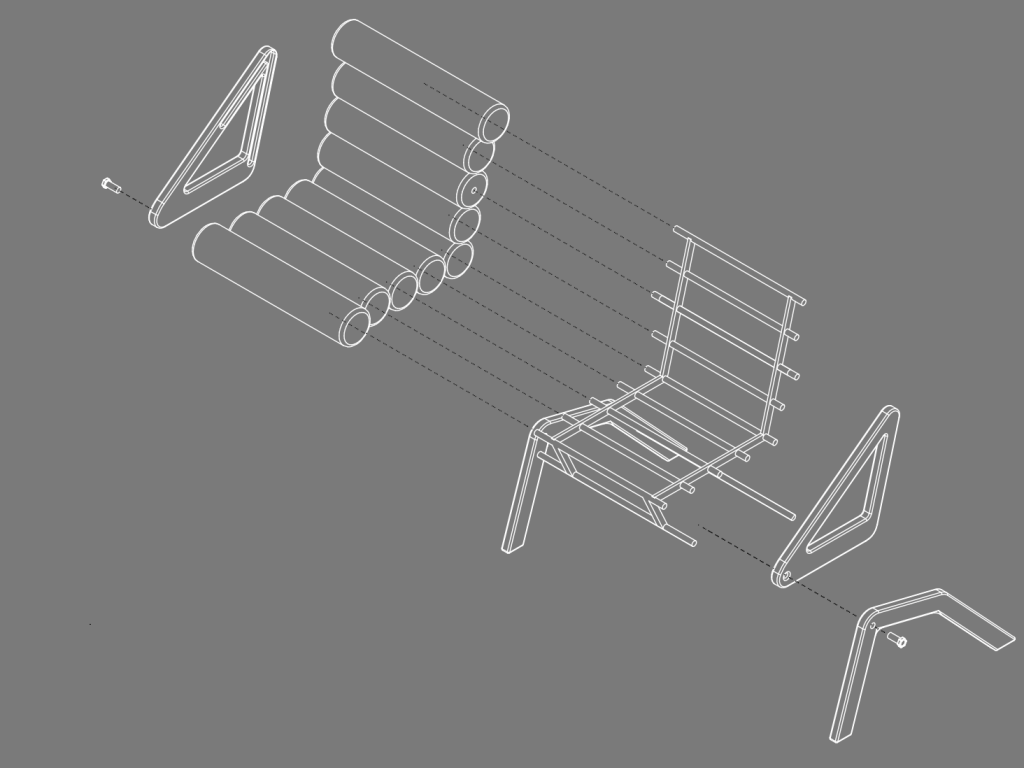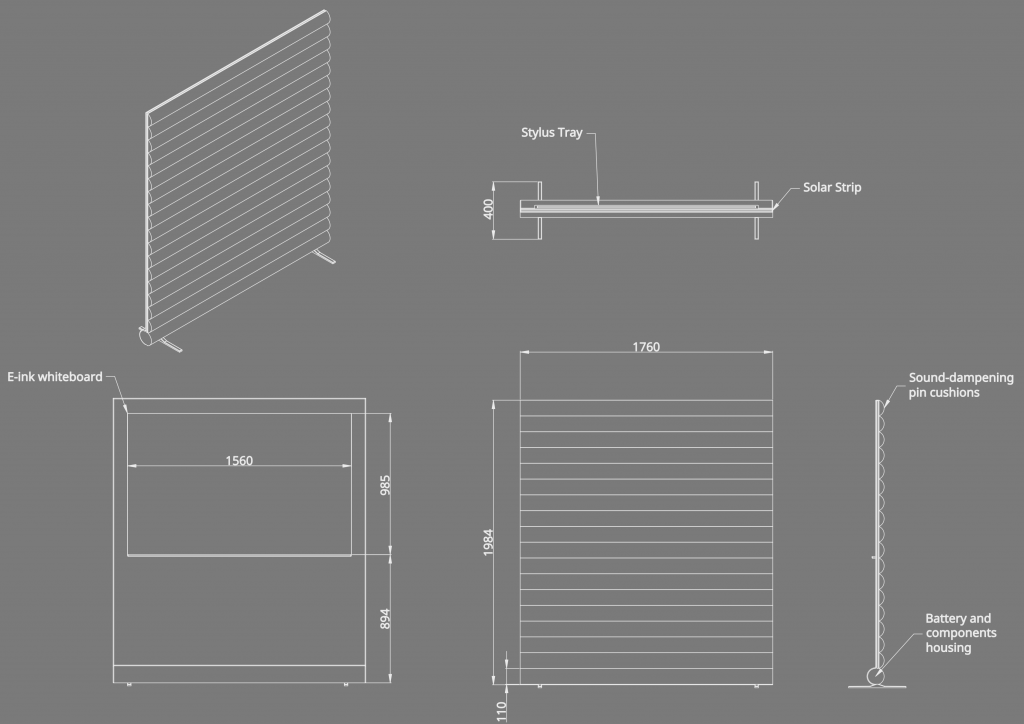 See more images of this project below [use the left and right arrows to scroll through].
Project Feedback and Reflection
I showed my final product design along with the office layout renderings shown on this page to my two interviewee's and this is what they said:
I love the design of the table and chair - definitely something that would be useful for my home office in fact! I wouldn't use the board divider at home though, and our office doesn't currently have as much use for that as the other products. Saying that, I feel like someone working at home with a significant other may find that very useful at home, and I do like that the chairs and panels match together though and that you can use the products in different atmospheres. Very versatile. My favourite feature is that you can see the mechanics of the legs in the tabletop. It makes it more interesting/ aesthetically pleasing. Not just a standard T-leg that goes up and down. Very cool.
I really like the final designs - it really fits the "flexible" bill that's so important to me and the teams I work with. There's plenty of space to sit and work, but without the typical physical barriers we have today, and easily enough room to also move around the space, use the wall space, talk to each other. And it looks great too!
This project was a 6-week long design project and included investigation into a user audience and their needs. I believe this project has more potential than time and resources allowed. I would enjoy further developing this project in the workshop with further prototyping. I also believe further technical development on the chair would be beneficial. Additionally the board could be an project on its own and be developed with a unique user group. I did take on a lot for the time available but the three pieces work together to provide a solution to my audience better than choosing one product. My core skills really developed in this project, although rendering glass is still particularly challenging.
Conforto, E. et al.,2014. Can Agile Project Management Be Adopted by Industries Other than Software Development? Project Management Journal, 45(3), 21–34. 
Fernandez, D. & Fernandez J., 2008. Agile Project Management —Agilism versus Traditional Approaches. Journal of Computer Information Systems, 49(2), 10-17.
Frayling, C., 1993/4. Research in art and design. Royal College of Art Research Papers 1, Volume 1, pp. 1-5.
Manifesto for Agile Software Development 2001 [Online]
Available at: agilemanifesto.org
[Accessed: 12 March 2021]
Murar, K. 2020. Rethinking the Post-Pandemic Office. Orange County Business Journal. 43 (35), 20–21.
Panero, J. & Zelnik M. 1992. Human Dimension and Interior Space: A Source Book of Design Reference Standards
Portman,H. 2019. A Project Manager's Guide To 42 Agile Methodologies [Online]
Available at: https://thedigitalprojectmanager.com/agile-methodologies/
[Accessesd 12 March 2021]
Prosci, 2021. Stop Confusing agile with Agile [Online]
Available at: https://www.prosci.com/resources/articles/stop-confusing-agile-with-agile
[Accessed 17 March 2021]
Robinson, J. 2020. 4 reasons post-pandemic offices may not be that different. Indianapolis business journal. 41 (30), 19–19A.
Stock Images for avatars from jemastock available at: https://www.vecteezy.com/members/jemastock
Other Stock images from Pixabay where attributions were not required by the contributors.